MITUTOYO IDC CALC DIGITAL INDICATORS
PRECISION TOLERANCE MEASURING
The Mitutoyo ABS digital ID-C calculation-type digital indicators performs internal calculations using the formula Ax+B+Cx-1 (assuming x is spindle displacement) while co-efficients A, B and C can be set according to the type of measurement or dimension on the fixture . This unique feature allows you to read measurements directly without the need for conversions.
Key Lock and Parameter Lock features prevent accidental changing of settings during operation. The ID-C indicator shows readings on a large 11mm LCD display.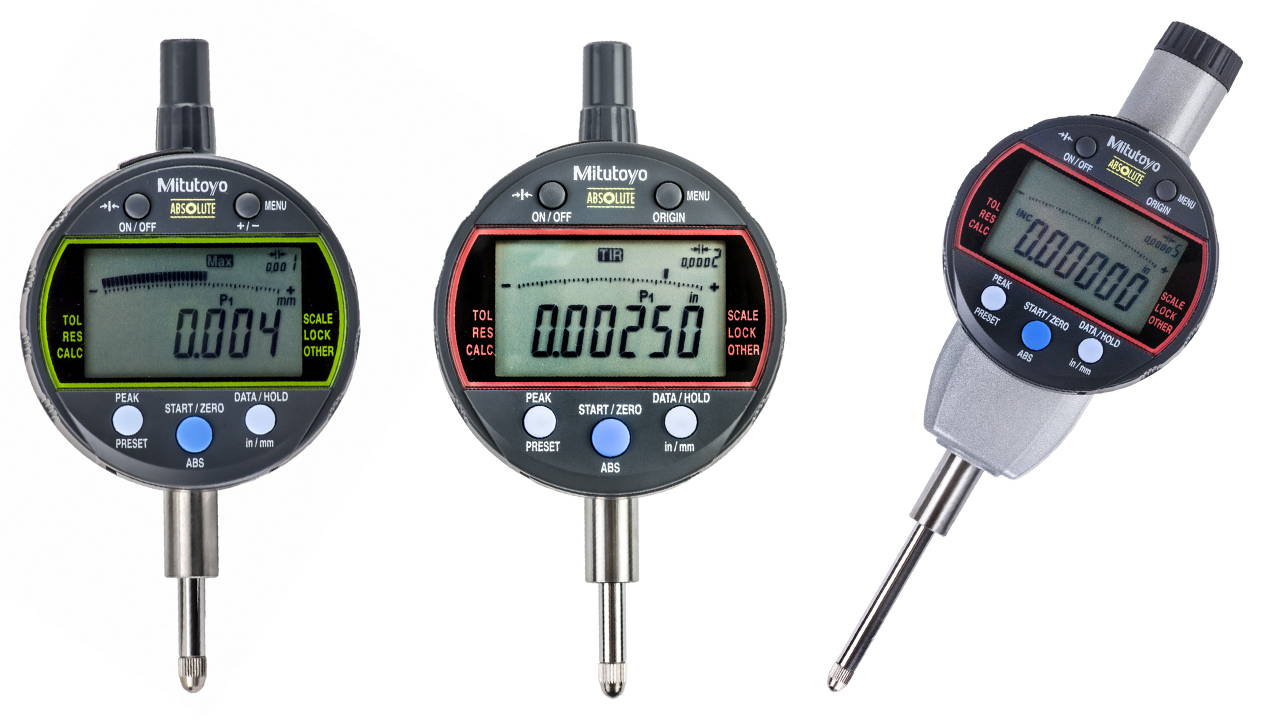 Available in Metric and Inch/Metric models
Available with SPC output capabilities
Fast measurement frequency allows users to increase the number of readings per second, from 10 to 50, allowing for higher accuracy measurements of TIR and MAX/MIN
Improved parameter setting software makes setting all available parameters easier
Analog bar provides easy-to-read values when scanning for Max, Min and TIR values
ABSOLUTE (ABS) linear scale eliminates the need for setting the origin point every time the micrometer is powered on
Origin reset is not required even when data is re-displayed after disappearance due to insufficient illumination during use
SPC output function allows for quick and easy data management in real time
Functions include Key lock, parameter lock, PC-USB input, analog bar, fast measuring frequency, peak detection, calculation, counting direction switching, power On/Off, data output and inch/mm conversion (on inch/metric models only)
Alarm: Low voltage, counting value composition error, over-flow error and tolerance limit setting error
Unlimited response speed eliminates over-speed errors
IP42 for protection against objects greater than 1mm and water
Supplied in a fitted plastic case
sHOP our MITUTOYO IDC CALC DIGITAL INDICATOR collection...