A Mylar Overlay can be a valuable tool when used with an Optical Comparator in various precision measurement and inspection applications. An Optical Comparator is an optical instrument used to magnify and compare the dimensions of a test part with a standard or desired measurement. It's commonly used in industries such as manufacturing, engineering, and quality control to ensure the accuracy and quality of machined or manufactured components.
A Mylar Overlay is a thin, transparent sheet made from a polyester film (Mylar is a brand name for this type of material). This overlay can have printed lines, shapes, or measurements on it, which can be used in conjunction with an Optical Comparator to achieve several important functions: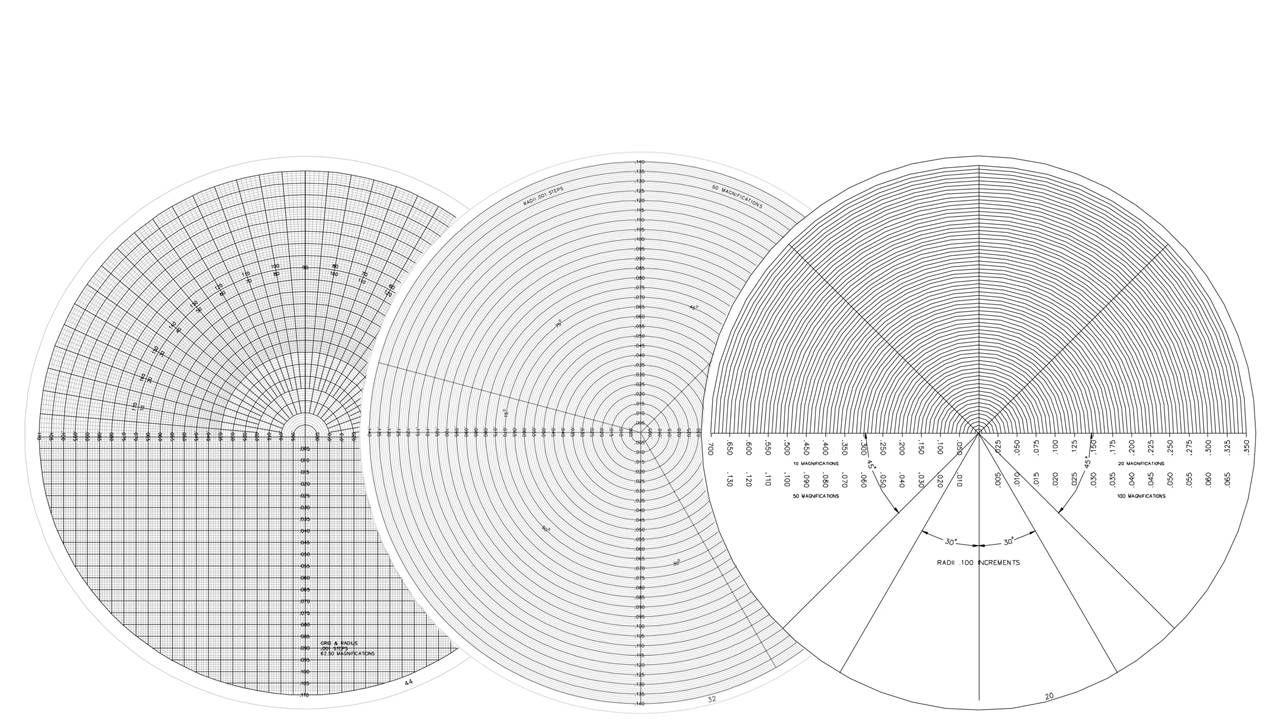 Dimensional Comparison: Mylar overlays are often printed with accurate lines, grids, or circles at specific intervals. When these overlays are placed on the stage of the Optical Comparator and superimposed onto the image of the test part, it becomes easier to compare the dimensions of the part to the overlay. This allows operators to quickly identify any variations or deviations from the desired specifications.
Measurement Calibration: Mylar overlays can include known measurements or reference standards. By placing the overlay on the Optical Comparator and calibrating it using these reference measurements, the instrument can be effectively calibrated for accurate measurements. This is particularly useful for ensuring that the Optical Comparator is properly adjusted and functioning correctly.
Tolerance Analysis: Mylar overlays can have tolerance bands or other indicators of acceptable ranges printed on them. When the overlay is placed on the Optical Comparator, operators can visually assess whether the test part falls within the acceptable tolerance limits. This helps identify parts that are out of tolerance and require further investigation or adjustment.
Thread and Form Inspection: Mylar overlays can include templates for threads, gear teeth, or other complex shapes. These templates can be aligned with the test part's image on the Optical Comparator to check for proper form, alignment, and symmetry.
Surface Profile Analysis: Mylar overlays can be printed with contour lines to represent the desired surface profile or shape. When overlaid on the test part's image, operators can quickly assess whether the part's surface matches the desired profile.
Rapid Comparison: Mylar overlays provide a quick and visual method for comparing the test part against a standard. This is particularly useful for performing initial inspections or quickly verifying dimensions without the need for complex measurement setups.
In summary, a Mylar Overlay enhances the capabilities of an Optical Comparator by providing a visual and precise reference for dimensional comparison, calibration, tolerance analysis, and form inspection. It simplifies the process of assessing whether a test part meets the desired specifications, making it an invaluable tool in industries where accuracy and precision are paramount.
sHOP our MYLAR OVERLAYS collection...